AAMU Students Receive National Scholarships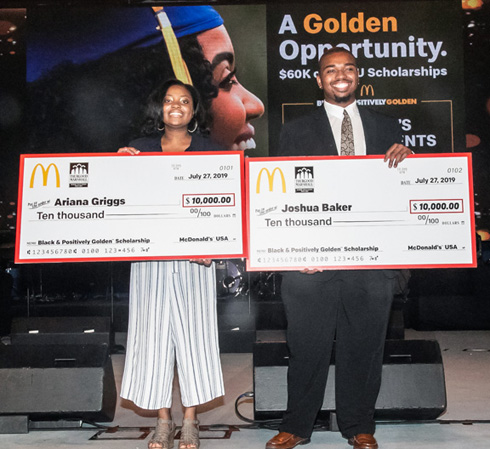 August 02, 2019
Josh Baker, Ariana Griggs Get TMCF/McDonald's Scholarships
McDonald's provided Black & Positively Golden Scholarship winners with a VIP Experience at the Inspiration Celebration Gospel Tour stop in Washington, D.C., on Saturday, July 27.
Alabama A&M University students Joshua Baker and Ariana Griggs received a $10,000 scholarship, an all-expense paid trip, behind-the-scenes access to tour talent, one on one interaction with local McDonald's owner/operators, front row concert seats, an in-show and on-stage check presentation.
They were two of only six students selected nationwide, according to Carla Draper Holloway, assistant director of the AAMU Honors Program and campus coordinator of Thurgood Marshall College Fund activities.
Huntsville native Baker is a first-year graduate student pursuing his master's degree in social work. He is a May 2019 graduate from AAMU who maintained a 4.0 GPA all four years, despite having to maintain two part-time jobs throughout his undergraduate matriculation. The highlight of his senior year was his selection as the Outstanding Scholar for the College of Education, Humanities and Behavioral Sciences.
Baker was heavily involved in the Poetry Club and was a four-year participant in the University's Honors Program. However, Joshua is most known for his work with the 100 Plates Project, a grief support group he founded to empower individuals who have faced or will face complexities within the grieving process.
Freshman Ariana Griggs began her first year at AAMU in fall 2019 with an interest in elementary education. The Rockmart, Ga., native attended Hillgrove High School, where she was affiliated with the National Beta Club and the Women's Chorus. Her lengthy record of service and leadership led to her recent selection as a scholar in the University's Honors Program. Of all her accomplishments, Ariana is most proud of her Gold Award, the highest award in Girl Scouts.